Amenities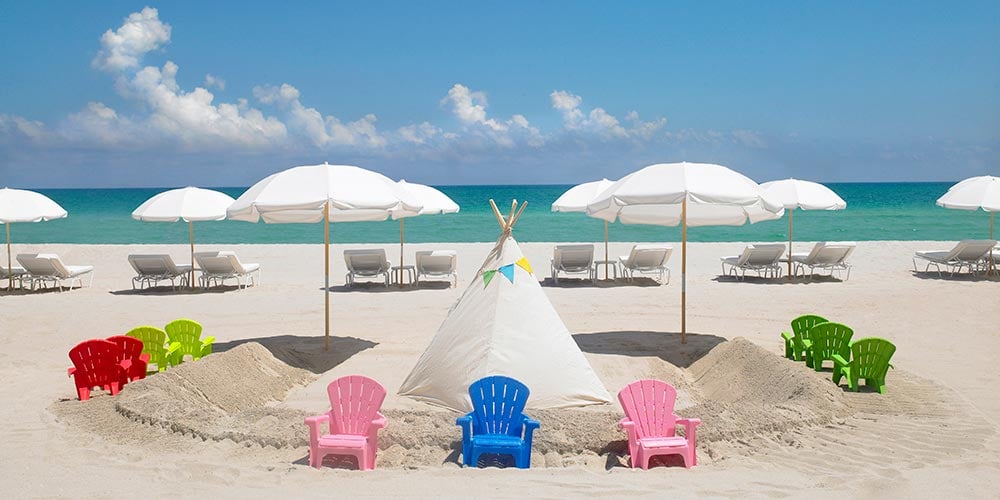 Amenities & Services
Located close to South Beach and the Miami Beach Convention Center, the Grand Beach Hotel Miami Beach offers spacious accommodations, spectacular views, excellent dining and a thrilling introduction to one of South Florida's most hip and fashionable enclaves.
Striking a delicate balance between work and play, the features of our Miami Hotel include:
Ocean front location
Two beach front pools and hot tubs
Tranquility pool and two hot tubs on the 7th floor overlooking the Atlantic Ocean (adults only)
Beach chairs and umbrella (included in the daily resort fee)
Daily Yoga on our 7th floor adult only pool deck (included in the daily resort fee--weather permitting)
Knowledgeable Concierge
Multi-lingual staff
Valet Parking on-site with in-out privileges for guests (charges apply)
Chez Gaston Restaurant, serving breakfast, lunch, and dinner.
Three bars
Room service 7AM-10PM daily (subject to change)
24-hour fitness center, located on the 7th floor with spectacular views of Millionaire's Row
Business center, located on the Lobby level, equipped with computers, Internet access, and a print station
Pet-Friendly
Massage and Spa services provided in room, on the beach or pool-side
Nearly 20,000 square feet of event and meeting space, encompassing the beach front pool deck, 7th floor Pool Terrace, Coral Room Meeting Room, and break-out suites.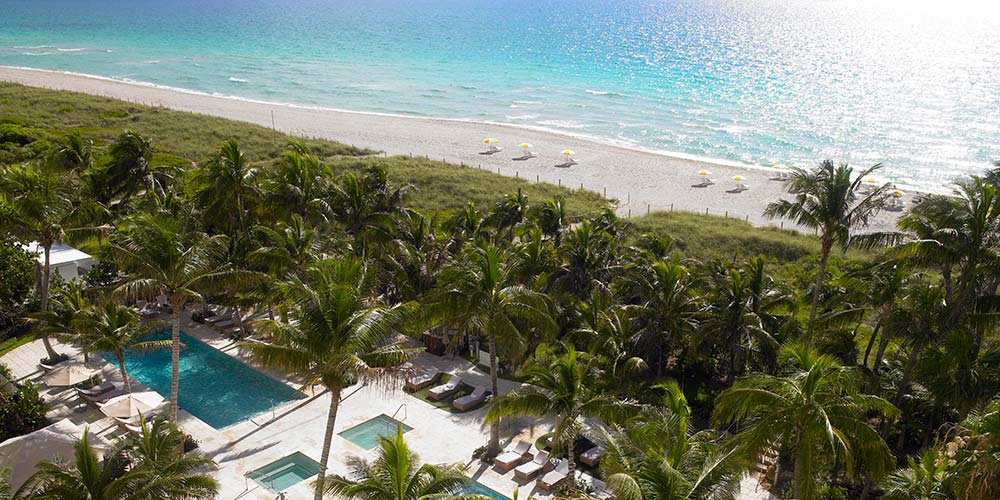 Beach & Pools
Overlooking 200 feet of white sandy beaches the Grand Beach Hotel offers the perfect location among Miami beachfront hotels. Begin your day in spectacular fashion by watching the sunrise above the Atlantic Ocean. In the afternoon, treat yourself to a rejuvenating nap on the beach while waves gently lap the sand or stroll along the coastline. Guests at our Miami oceanfront hotel enjoy mouth-watering cuisine and refreshments from the Chez Gaston Restaurant and our Pool Bar.
This Miami beachfront hotel features a breathtaking tropical ambiance while providing spectacular views of the Atlantic Ocean and Biscayne Bay. Two beachfront pools and two hot tubs provide the perfect setting for families with instant access to miles of beaches stretching into the distance. The Tranquility Pool on the 7th floor is a quiet oasis for adults only. Guests can enjoy a spectacular view of the ocean and Biscayne Bay while sipping a drink from our Sunset Bar.
Beach & Pool features:
Oceanfront location
Two beachfront pools and hot tubs
Tranquility pool and two hot tubs on the 7th floor (adults only)
Food and beverage service from the Chez Gaston restaurant on the beach and all pools
Beach chairs and umbrella (included in the daily resort fee)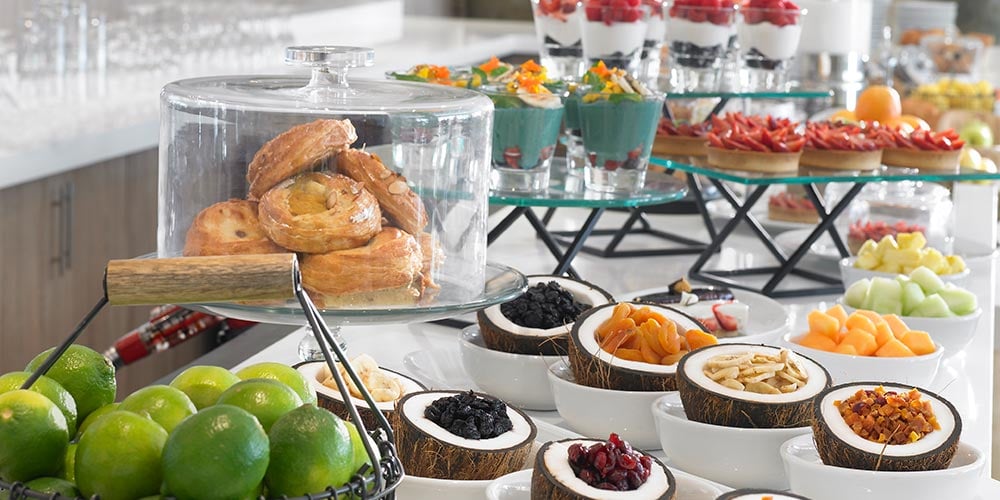 Dining
Chez Gaston, our poolside main restaurant is open for breakfast, lunch and dinner. Our Espresso Bar provides the perfect setting to grab a cappuccino or ice-cream and our Pool Bar allows you to relax and enjoy a tropical cocktail while overlooking the beach.
CHEZ GASTON RESTAURANT
Feast on local fare and get the true Miami Beach experience while sipping your espresso watching the waves break. Choose from our classic breakfast selection to include eggs, pancakes, and bacon or try a tasty "empanada" to start your day. Lunch & Dinner options offer a wide variety of hot and cold items. Our restaurant offers guests options to choose from a quick snack or choice to slow down and enjoy a full sit down meal.
Menu: Latin/American fusion
Atmosphere: Family Casual
Breakfast hours 7:00am to 11:00am
Lunch hours 12:00pm to 06:00pm
Dinner hours 6:00pm to 10:00pm
Add Espresso and fresh juice to your morning routine. Indulge in a breakfast dessert and a selection of specialty teas and coffees. Start your day with a classic breakfast including eggs, pancakes and bacon, or find the flavor of the region with our local flavors menu. The perfect place to fuel up for a day of meetings or sightseeing.
ROOM SERVICE
Breakfast hours 7:00am - 11:00am
Lunch hours 12:00pm - 6:00pm
Dinner hours 6:00pm - 10:00pm (Thursday through Monday)
ESPRESSO GELATO BAR
As the sun rises over the Atlantic Ocean, join us in the Espresso Gelato Bar to enjoy a cup of coffee/espresso or a quick "Breakfast To Go". During lunch time, small meals such as Paninis are available. Or enjoy a scoop or two of refreshing ioe-cream in the afternoon.
Bar hours: 7:00 am – 6:00 pm Daily
BEACHSIDE POOL COCKTAIL BAR
Embellish your fun in the sun with our cabana style beach and pool side cocktail bar. Our beach side cocktail bar offers a variety of refreshing tropical creations, classic cocktails and international beers. Non-alcoholic refreshments are available in addition to fresh fruit smoothies.
Hours: 12:00pm – 5:00pm Daily
SUNSET BAR & POOL LOUNGE
Located on the seventh floor, our Sunset Bar takes you into a tropical paradise overlooking breathtaking views of the ocean and the bay. Whether it's sipping on a pina colada while relaxing in the tranquility pool, or enjoying a cold beer sitting under the shade enjoying the warm tropical breeze, the sunset bar is the perfect place for fun and relaxation.
Hours: 12:00pm – 6:00pm Thursday through Monday (weather permitting)
LOBBY LOUNGE
You don't have to venture far to enjoy the ambiance and experience of our versatile Lobby Lounge and Cocktail Bar. Join us in the morning for a cup of Espresso or a refreshing mojito and enjoy snacks while watching other guests arrive and depart the hotel. Experience with us a transformation as the sun sets and our serene day lounge transforms into a chic and upbeat cocktail bar where elegance meets comfort and style.
Bar hours: 5:00pm – 11:00pm Thursday through Monday
Evening: Cocktails, international beers, friendly, upbeat atmosphere or watch your favorite sporting event on our large TVs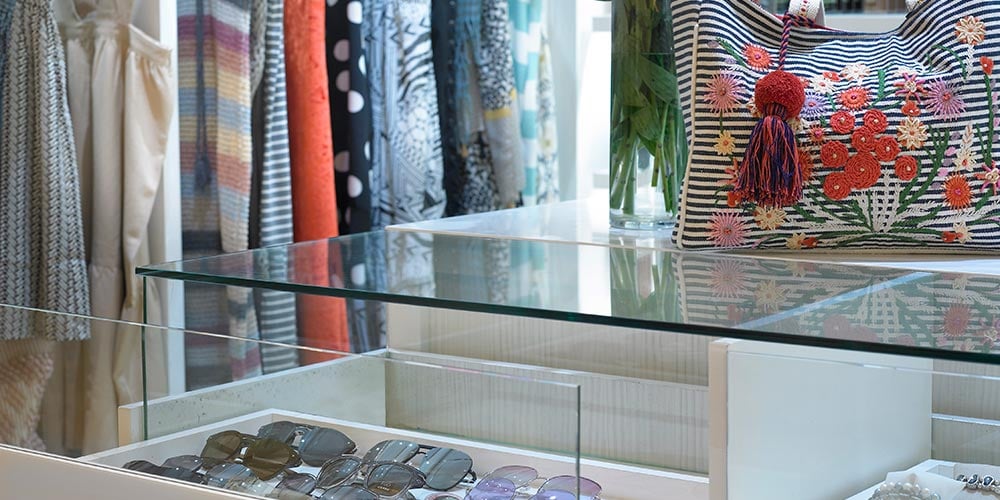 Fitness & Recreation
The Grand Beach Hotel Miami Beach offers a variety of recreational features, including a white sand beach, state of the art fitness center and poolside / outdoor spa services. An oasis of serenity overlooking the ocean, the Grand Beach Hotel Miami Beach invites you to do it all - or nothing at all.
RECREATIONAL AMENITIES AT THE HOTEL
White sand beach, perfect for lazy afternoons in the sun or romantic evening strolls
Three heated outdoor pools
24-hour Fitness Center featuring top of the line equipment and two Peloton® Bike with stunning views of Miami and the intracoastal.
Daily Yoga (weather permitting)
In-room and poolside Spa Services


RECREATIONAL AMENITIES NEARBY
Yacht tours
Snorkeling
Windsurfing
Swimming
Tennis
Scuba diving
Deep-sea fishing
Various tours available through our concierge